| | |
| --- | --- |
| Posted by Diana Hartman on July 30, 2014 at 8:00 PM | |
Container gardens are the quick and easy fix for those of us that don't have enough time or tend to change our minds often. Actually, container gardens are the answer for any landscape! Can't make up your mind regarding the look you want...they're easily changed. Think of container gardens as throw pillows and change them out yearly or even with the seasons! Don't have much room...they can be as small or as large as you choose. These work for apartments or large, expansive landscapes! You can use one pot that you love or several styles that work together to create a collage of beautiful greenery.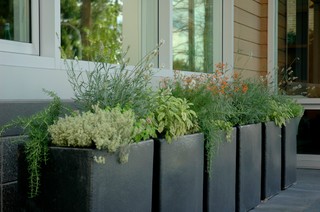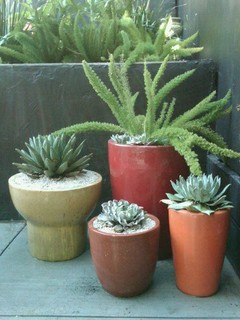 Create a container garden with purpose! Are you desiring a focal point with ornamental grasses and flowers? Would you prefer a low maintenance succulent garden to add to your deck? How about a collection of herbs? ...a salad garden with lettuce and tomatoes? ...a plethora of decorative containers with all of the makings for salsa right out your front door? Peppers, cilantro, tomatoes and cabbage go together to create a gorgeous edible arrangement! Another thought...what about planting a large mobile container with tall grasses or smaller bushes to create a privacy screen?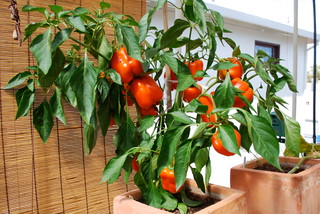 So, how to get started...
First, decide on your purpose for your container garden. Once you have chosen to plant for edibles, privacy and/or to add pizzazz to your landscape, you may begin to choose your plants. This is my favorite part! Take your time choosing the plants that you will enjoy most and that will accomplish your goal of creating color, privacy or great fruit and veggies!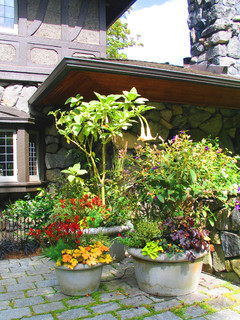 Choosing a pot is not as easy as it may sound. They are so many styles, colors and materials from which to choose that it may become overwhelming. I suggest taking a picture of the area that you would like to place the pot(s) with you when you go shopping. Be creative with colors, textures, and sizes! Would you like a collection of concrete pots in different shapes and designs. These would work well to show off striking greenery or bright ornamentals. If you are planting edibles, they would look wonderful in containers made of reclaimed and/or recycled materials. If you would like to add a focal point or more color to your landscape, choose several bright colored clay containers.
As I always say, have fun and be creative with your creations! There is less commitment when you are designing container gardens. Want to change your landscape...just change your container gardens! Simple, quick and easy!
Container gardens are the throw pillows of your landscape! Accessorize!