It's nice to be back with you after a shorter than average winter season in Bozeman, Montana! We had a little extra time on our hands this past winter as our plow trucks remained sedentary and I'm not one to sit still so I sunk some time into an old hobby that I had forsaken...creating art with wood! I'm also a multi-tasker (some might say to a fault) so of course my art must also serve a function. Artistic work on a buffet, a bench or on a cutting board will allow me a creative outlet as well as, create a useful piece of furniture. As the grass started to green and I assessed my yard this weekend, I realized that our landscapes are also functional pieces of art.
With this thought in mind, I ask you to view your yard as a clean canvas! This canvas can be used to decorate or accentuate your home, but it can be designed to do so much more and serve a function as well. Let's talk about possible functions first and then we can incorporate some simple elements of design culminating in the perfectly functional art of a landscape created for you.
Functions:
• provide shade, cutting air conditioning costs and providing the perfect place to relax on a simmering hot day.
• provide a wind break to protect your home and self from unpleasant blasts of wind, dust and trash.
• increase privacy in which to relax, let go and be yourself.
• prevent soil erosion and water runoff to keep your yard in your yard.
• reduce water use and your water bill.
• control water drainage to avoid a wet and/or muddy situation.
• create spaces for relaxing and entertaining.
• create space to grow and harvest your fruits and veggies...if you've been following my blog for awhile, this one won't surprise you at all!
These functions and more that I haven't mentioned can be accomplished in numerous designs just as a piece of art depicting a favorite flower, the Poppy, can be artfully created using various methods and a variety of media.
Now, let's discuss basic tips of design to consider when laying out your landscape to fulfill its chosen function(s). These will help you in the design process in order to accomplish your function in an aesthetically pleasing manner, in other words to combine the function and the art.
Design:
• Group similar plants in masses in order to create a more organic, natural landscape.
• Mix a variety of plant textures. Combine plants with large leaves and small leaves, smooth leaves and fuzzy leaves.
• Include a variety of forms. Choose plants of differing heights, spans, etc.
• When choosing colors, limit choices by picking a theme. (monochromatic colors, complementary colors, etc.) Remember less can be more.
• Consider winter appearance of your landscape. Think about berries, twigs and bark, grasses and evergreens.
• Fill your beds to keep weeds at bay and to create a lush appearance.
• Keep in mind the value of hardscapes (sidewalks, patios, built in planters, etc.) to add artistic elements and function to your landscape.
• Consider the use of shapes of beds and hardscapes to create "outdoor rooms" within your yard.
• Remember the importance of other senses, such as smells and sounds , to create a mood. A water feature creates a relaxing sound and outdoor speakers can provide an invaluable source of enjoyment.
• Always consider the addition of actual art within your landscape to add that artistic flair.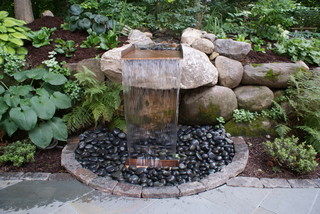 When you walk into a home, a building, a room, it creates a feeling by design. Your yard can and will do the same. It serves a function, probably several, and inspires a mood. So use the advice above and/or call us for assistance and get excited! Your yard is a canvas! Create the art!